Fruitoids gives us a wide collection of alien fruits to play with as they freeze and melt into place. With its sticky re-spin feature and multipliers it's sure to fill someone's appetite!
I think developer Yggdrasil chose the name Fruitoids well when they released this game in 2018. In my mind, it immediately conjured up the idea of alien fruit and that was exactly what it offered. The 5-reel and 3-row playing field is filled with all sorts of strange but delicious-looking fruits that we'll use to win on one of the 25 paylines.
The different symbols looked extremely well. They're sharp and detailed, looking vaguely like fruit I might know from real life but altered in such ways that it's impossible to connect them with any existing fruit I recognized. Unfortunately, none of the symbols were animated except for the freezing and melting that's the same for all symbols.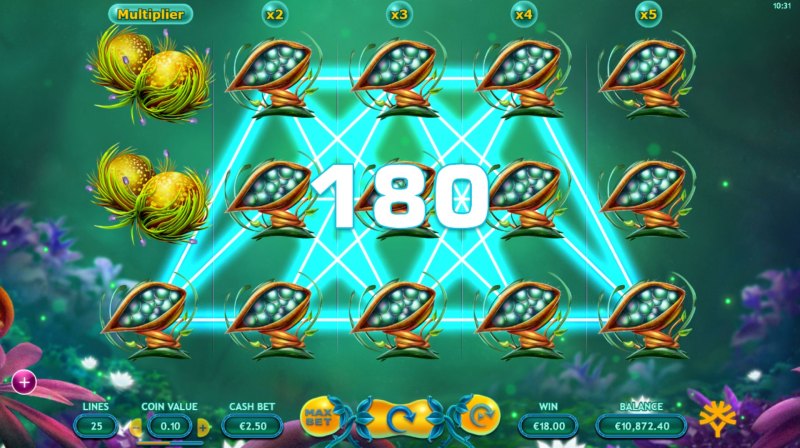 I'm sure many other people besides me made the connection with Winterberries, another Yggdrasil game that used fruit as a theme. It also had the sticky re-spin function as well. Even the idea of the symbols actually freezing in place is exactly the same. Is this a case of a lack of inspiration or did the developer really like the premise? Either way, the games are almost interchangeable in terms of mechanics.
Back to Fruitoids, the game has been blessed with an actual soundtrack that keeps playing regardless if you are spinning or not. Many games only play a song while the reels spin but Fruitoids has real music. It does fade out after about ten seconds when you stop, but if you don't it will continue.
I found it odd to hear a sound effect that reminded me of a cold wind blowing through a winter forest. Another small note, this sound effect loops quite sloppily, causing the sound to simply stop for half a second before beginning another loop.
Symbols
The symbols in the slot are pretty but also lack any real context. There's no way to tell which symbols are more or less important. There are no Wilds, Scatters or Bonus Symbols so it does keep things simple.
From highest to lowest they are:
Purple Orb Fruit: Max. 500 coins with five-of-a-kind on a winning payline.
Yellow Fruit: Max. 100 coins with five-of-a-kind on a winning payline.
Blue and Red Fruit: Max. 50 coins with five-of-a-kind on a winning payline.
Pink Fruit: Max. 30 coins with five-of-a-kind on a winning payline.
Orange and Blue Fruit: Max. 30 coins with five-of-a-kind on a winning payline.
Pink and Purple Fruit: Max. 20 coins with five-of-a-kind on a winning payline.
Red Fruit: Max. 20 coins with five-of-a-kind on a winning payline.
If the coin win seems low you'd be correct, but keep in mind the sticky re-spin function. This feature pops up every time you have symbols on a winning payline, meaning that it's actually quite rare to only get one win. In the same vein, the multiplier function can make this slot more lucrative than other slots without these features, even on its Medium Volatility.
Features
As I've mentioned several times before, Fruitoids really only uses 2 features in the game. These work very well together and are presumably the reason Yggdrasil has released Fruitoids at all: to update Winterberries with new graphics and not much else.
The features explained in a little more depth are:
Sticky Re-Spins: Whenever there is a win, the involved symbols get frozen in place. After this, the other symbols are spun again. When additional winning symbols appear they also become frozen as the game re-spins again. This continues until there are no more winning symbols added or the entire playing field is filled with the same symbol.
Multipliers: From reel 2 to 4, filling each reel adds an extra multiplier to the total win of that spin. The reels do have to be filled consecutively from reel 1 to 5 in order to get the multipliers. The maximum multiplier is 5x the total win.
The sticky re-spins should be self-evident while playing. I found the visual of the symbols freezing in place extremely obvious in how it worked. Once the re-spins stop the symbols melt and the win is calculated.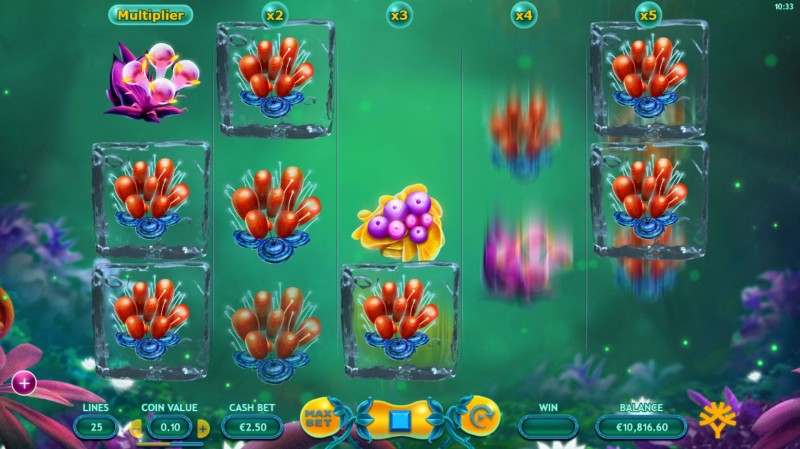 Important to add though is some information about how the wins are calculated. Once there is a win and the re-spins start, any new symbols will be added to the win, no matter where they are on the reels. For example, if there is a horizontal win on reel 1, 2 and 3 and the re-spins add a symbol on reel 5, the game will count it as a four-of-a-kind winning payline. This also explains the relatively low coin value for a win.
The multipliers might require a little more explanation. Reel 1 has none and every subsequent reel adds a +1 multiplier. A multiplier is only activated once that entire reel is filled with stacked symbols. They only activate consecutively: if you fill reel 1 and 3, but reel 2 only has 2 symbols then you won't get the 3x multiplier to your win. It requires reels 1, 2 and 3 to be filled in order to get the 3x multiplier.
It might have eluded me for a little while when I first played Winterberries but once I figured it out it points itself out. Fruitoids uses the exact same system so it won't be an issue to understand how it works.
Conclusion
If you were a fan of Winterberries then you will get the exact same experience out of Fruitoids. The game is obviously prettier and has updated graphics, but uses the same features. For people who aren't familiar with the older game, Fruitoids will similarly be an excellent introduction.
I personally found the sticky re-spins mechanic coupled with the multipliers to work very well, not only being fun to watch but also resulting in some big wins. Players have the ability to choose a bet between $0.25 and $150 per spin, and a max. win of 50,000x your bet to look forward to. That said, in my experience keeping my bets slightly lower prove to be very beneficial since higher bets caused just a few spins without a win to deplete my funds quickly.
If you're looking for a simple slot that stays close to the classic experience but with two very prevalent features to keep you busy, I'm sure you'll find this game entertaining. Fruitoids doesn't need a bonus game or free spins to keep the player engaged and I'm glad they didn't decide to add them.